San Antonio to Nuevo Laredo, Mexico


San Antonio to Nuevo Laredo, Mexico
While we were staying in San Antonio Vicki and her husband were quite gracious hosts. While we stayed with them we took a trip to Mexico. The closest border town was Laredo, Texas paired with the Mexican town of Nuevo Laredo just across the Rio Grande River. As we hitched a ride in San Antonio we were picked up by a group of young kids. The driver had "borrowed" the car from his girlfriend's father. This was really more like stealing since the father didn't approve and his girlfriend was not with him. They had a car, but no gas money. Steve and I had some money, but no car. We made an agreement that we pay for gas and they would drive us to Nuevo Laredo Mexico and then on to the major city of Monterrey, Mexico. So the trip to Laredo went pretty un-eventfully and we passed the time listening to our hosts read "Gidget Goes Hawaiian" out-loud to each other to pass the time. When we reached the border control at the Mexican border, we hit a snag. It seems that the car our friends borrowed had two keys, one for the ignition, and one for the trunk. Our friends only got the ignition key. The border police asked us to open the trunk and when we said we couldn't they would not let us go any further. At this point our young hosts had to turn around and Steve and I went across the border by foot.
And After crossing over by foot, Steve and I decided to take the bus to Monterrey and see the "real Mexico" and not a border town. We needed to get a special visa to go further but the official did not want to give it to us because of our long hair. Disappointed we left the little building and we were approached by a man who said he was a lawyer looking out for the rights of the tourist. He said for $10 he could turn the entire situation around. Yes, we gave him $10 and he went back to the immigration office and came back to us saying he could get us our visas for $40. Well, we felt we could trust him because he came back to us. As you can imagine, we gave him $30 more and he went back into the building though we never saw him come out. About an hour later we decided to see how he was doing and we went in the building ourselves. It was quite apparent that he had left out of another door and we had learned a great lesson of life.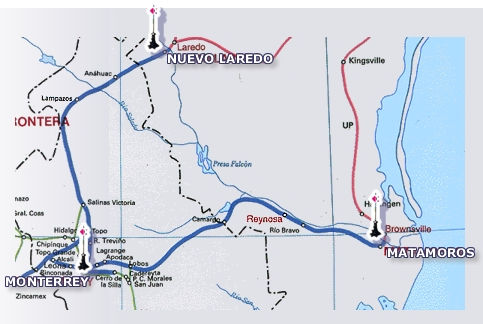 After we left Mexico and San Antonio we went to St. Louis to visit Steve's sister and then on to Long Island New York to visit Steve's Mother. We had some interesting rides during those legs of the trip. One momorable ride was with an ex-priest in a retired Yellow DOT van. He was on a spiritual quest and he and Steve hit it off great. They seemed to be on similar quests. While we drove through the night he and Steve discussed their spiritual journeys. I felt left out of this and was concerned that Steve continue traveling with him and again the fear of being "on my own" began to surface.
Continue